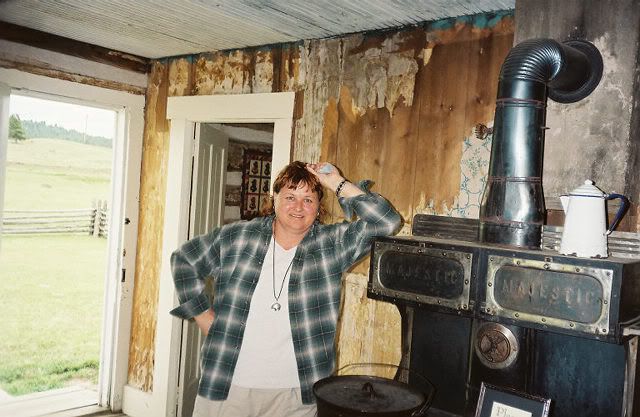 July 23, 1998
We left around 11 this morning after taking care of a few last minute things in Camden.

It was hot as usual.
We hit a traffic jam in Columbia and a couple more in Georgia.

It was a welcome sight to see the foothills in Alabama.

We had to find a Walmart and get a new battery for the video camera.

We did only a little videoing and the old battery went dead!
We had lunch at a roadside rest area in Georgia

& had dinner in Jasper Alabama.

We spent our first night in Winfield, Alabama.

The room stinks like smoke! YUK!

Called Home at 8:40 and J. had not heard from JT yet.
July 26, 1998
I was planning to write everyday, but it has been hard to do.

I had the biggest biscuits I've ever had in Alabama they were big as saucers!
It was so hot in some areas.

We stopped and visited Elvis Presley's birthplace.

It was nice (Tupelo, MS) anyway thru Oklahoma and Texas it was very hot, like 105. It was a dry hot of course, and a strong wind was blowing we had our second night in Yukon, Oklahoma the birthplace of Garth Brooks.
We stopped at a great Indian trading Post and got some gifts.
Yesterday we arrived in Colorado and it was very stormy.

We had planned to stop in Pueblo, but there were no rooms so we tried Canon City, no rooms finally at 1:30 am we gave up and went to the KOA camp at Royal Gorge and we slept in the back of the car it was a good thing I brought the sleep pad and sleeping bags.

We didn't sleep much thought.
I had to get up to Pee 4 times and that kept me from sleeping!! We would like to have gotten a cabin, but when you come in after 10 pm you cant get a cabin key.
We went and saw the Royal Gorge this morning and we got ½ way across and it started to move and we got dizzy so we headed back!

We went in a great shop there and I got a wonderful Bear Necklace.

It has a great bell sound inside!

We saw a deer and 3 fawns there.
We drove over a great road from Canon City to Cripple creek.

It was a canyon road called Gold Belt By-way and it was great!
We watched two hawks (unknown ID) soar and squawk as we lunched by a canyon.

We drove about 2 hours over it.

It was bone rattling rough, but great.

After that we drover to Victor and Cripple Creek and road the narrow gauge RR there it was FUN.
A lot of gold has been taken from there.
We stopped at Crystal Fossil Nat'l Monument they the charged an entry fee so we passed and the fossil trail was too far to walk.
We have stopped here in Johnson Village near Buena Vista and Tomorrow we head to Sis's house.
July 31, Friday 1998
We had a great visit with Sis.

We all stayed in Carters house.

It's a great house it's like staying in a museum.

All the beautiful Masks and paintings and things they have collected a great place!!

We ate at Wendys Res. On Monday night
On Tuesday we went to Glenwood Springs, sis had to visit her foot Dr. and get struts put on her car so we picked her up there and she and I climbed up the mountain (1/2 mi) to the Pioneer Cemetery where Doc Holliday is buried.

It's a really old cemetery going back to the 1870's.
We went to see Zorro it was great.

I enjoyed it.

Back at home we ate at Carters house and watched some of the videos we are making along our trip.

We had a lot of fun laughing at our terrible videos, but its not all bad!
On Wednesday we went and visited a friend of sis and she has bought a new house and she is remodeling it.

It's in a beautiful setting.
At 2 pm sis and I left to go to Glenwood to get 2 new screen doors for her place, and to go on our Whitewater Rafting shop alongside the Colorado River.

They took us on a bus and we put in at Shoshone Falls and did some class II and III rapids 2 of which were called the Wall and Man Eater respectively.

The Photo I have was made at Man Eater.

W got out about ½ mile below that and we loaded up the boats and went back to Shoshone and did it again!

It was the best fun!

We shared our ride with 2 young Zeglers from Missouri (age 11 and 14) and 3 more Zeglers from some place else not RELATED there were on their High School graduation trip, ages 19, 19, and 18.

All nice boys!
We had to leave out around 9:30 and we had a beautiful drive down Hwy 133 and 92 to Black Canyon of the Gunnison Nat'l Forest and to Montrose where we stopped.
Today we left and headed to Hwy 50 & 55o to Ouray and over the Red Mt Pass thru the San Juan Mt.

The most beautiful country I've ever seen!

The Red Mtn its self so red and gold in color, and the wild flowers were beautiful.

We arrived near the Mesa Verde at about 2:30.

Just before that we stopped at a Trading Post and got some gifts.

There were some swallows nesting there.

We got up on top of the Mesa just in time before the rain.

The Dwellings were great!

Oh yeas we saw a wanted poster for the 3 men who killed a deputy back in the spring right here in Cortez, which is, were we are staying.

One of them was found dead they think he was shot by the others cause he broke his ankle.

As we came down off the Mesa a huge storm broke RAIN LIGHTENING and after wards a huge double Rainbow nice!

We just missed a Black Bear on the road up the mesa, but maybe we'll see one yet!

It's off to Arizona tomorrow.
Sat. Aug 1, 1998 (day 10)
We drove from Cortex stopping at Indian Trading Posts along the way, Ute and Navajo.

The Navajo Res. is very barren and hot, windy, and dry.

There is sagebrush and stunted Cedar trees.

The Indians live in small shacks and they are junky looking.

Most have sweat lodges, some big, some small.

We stopped at the 4 corners monument and bought some Indian Jewelry there.

The prices are very cheap.
We only made one other stop, at a Burger King for lunch in Kenyeta.

There was no place shady for a roadside picnic, like we've been having.
We stopped at 4:50 EST we're not sure if we are in MTN or Pacific Time so we are just staying on Eastern Time to make it easy for us!
We stopped cause we were afraid to get close to the Grand Canyon that we'd be out of luck and miss out on getting a room.

We are staying at Cameron Trading Post 54 miles north of Flagstaff.

There's a great gift shop here we're gonna go visit now!
I really enjoyed staying at Cameron.

It was really beautiful.

We left about 9:30 and headed for the Grand Canyon.

I was about an hour drive.

We stopped at the Little Colorado Canyon where the Navajo Indians had booths as well.
We got into the park free with Moms Golden Age Pass.

Saved $20 on admission fees, and her seniors discount saved our room here in Williams AZ.
The Canyon was unbelievable, beautiful and hot, though crowded.

We shot lots of video footage.

There were mostly foreigners Europeans and Japanese.

Not many Americans.

There'd be more

We didn't see any animals a squirrel, and a lizard, but nothing else.

No wonder with all the People there was no room for animals!
I wish we had planned a raft trip for the Canyon, maybe next time?
Monday Aug 3, 1998
We drove from Williams AZ to Mohave CA today about 388 miles.

It was desert all the way.

Hot as HELL, 128 degrees.

There was not much to see just sage, some cactus, and sandy mountains.

Tomorrow we continue on to Sequoia & Kings Canyon.
Tuesday 8/4 1998
We drove to Sequoia & Kings Canyon parks today.

The drive thru the San Juakeen Valley was pretty.

They grow everything from nuts to nectarines.

It was very green thanks to irrigation from the Colorado River.

We saw some people picking grapes.

The Giant trees were like nothing I've ever seen.

They are so large and silent.

They say nothing.

We took videos and pictures.

It was very hot in the lower parts, but up top where the big guys were it was cool about 14, 000 ft. up.

We saw 2 deer, one female we filmed the other a 4 point Buck jumped right out in front of use we nearly hit him.

I literally slammed on brakes to avoid him!

He was beautiful; his antlers were still in velvet.

I also saw a black-headed sparrow, and a California quail, brown-headed creeper, and some others I didn't identify YET!
We were lucky to get a suite for $69 at the Quality Inn in Fresno, CA.

On to Yosemite tomorrow!
Wed. 8/5/1998
We left Fresno sort of early we had the continental Breakfast in our room, coffee and Muffins.

It was about 50 miles to Yosemite.

The Valley of Yosemite was very crowded, but we managed to see most of it.

It's the most beautiful place i ever seen in my life.

Just so huge and bright, the trees, the water, and the rocks!

We drover thru the Yosemite Valley and did a lot of videoing.

It was very crowded, but we managed to get around.

After the valley we took the Tioga Road and it was fantastic, high and white rock and lakes big and small.

Trees twisted and gnarled also sequoias.

I loved it!
We stayed in Monolake, Ca just outside the Inyo Nat'l Forest.

There is a beautiful lake, it looks like moon scape there.

It was very expensive but we stopped anyway so we wouldn't be out late that night.
Sat 8/8
I don't know what date it is I've lost track.

On Thursday morn we headed up to I-80 and across Nevada, there was a very little to say about Nevada, except it has lots of sage Brush.

We stopped at Virginia City I enjoyed that.

Idaho was very beautiful.

At first it was lots of farming, potatoes, wheat, hay, corn, and such.

Then we headed up into the Saw tooth Wilderness and it was so great.

We followed the Salmon River for the entire time we drove till it tuned into Bitterroot in Montana.

The scenery there was the most beautiful thing ever.

The Valleys really pretty and the river was great!

We stayed at a place called the Village Inn in Challis Idaho.

There was a great view.
We entered Montana about 2 pm. today.

It's just beautiful.

The towns are cute and rustic, except for the big ones of course.

We saw Rocky Mt. Sheep, and picnicked near a river.

Maybe the Bitterroot River?

After entering the Flathead Indian Res. We came upon the Flathead Reservoir.

The largest Lake I've ever seen!

It just goes on for miles, we passed the turn off for the National Bison Range, but had no time to stop and our camera batteries were dead.
We arrived in Kalispell and tried to get a room.

It looked like we may miss out but finally got a room here on Hey 2 at a dump called the Blue and White Motel.

We head for Glacier tomorrow.

Tuesday 8/11
We had a great look at Glacier Park.

The road, Going to the Sun, was very steep & narrow.

We got a look at Mt. Goats a female and kid, she still had a big unshed was of hair on her.

The views were spectacular and we enjoyed seeing the Glaciers, it was crowded as all the other parks have been, but not so many foreigners!
The St. Mary's lake was the most beautiful color I've ever seen.

A wonderful blue green color, which we were told, was from the deep water. We took a boat ride in the lake and really enjoyed that.

We missed seeing a bear cow and 2 cubs grrrr.

We took one short hike along the upper edge near the lake that was fun.
After leaving the higher elevations we came down into a valley where wheat was king.

There were so many fields of wheat.

The farmers were busy getting it harvested.

We stayed the night in Livingston, a really cute town.

We went into a couple of shops and got few things.
Today we drove on into Yellowstone and saw deer right off the bat, then later moose, and elk.

No bear thought or Buffalo.

The falls are beautiful and the Geysers and steam pots too!

A big fire, which started back a few years ago, and hundreds of trees were killed.

New ones two feet tall are up.

So it wont be long till there grown again.

The wild flowers are prolific here, especially the fireweed.
We were lucky to get a room in the frontier cabins at Canyon village we had a small bungalow with a bath, and twin beds.

NO TV but that was ok, we like it, were planning to try and get a room in Cody and hang around here most of the day if we get one.
Thursday, 8/13
We stayed at Rainbow Inn in Cody after another day at Yellowstone.

We sat and waited for the Great Fountain Geyser and it was great.

We had a really good diver over to Cody thru a Canyon and this Morning we went to Trail Town, an old Western set up with Cabins and a graveyard where Jeremiah Johnston is buried.

We then drove thru the Big Horn Mountains, and Big Horn Nat'l Forest.

Powder Pass was 9666 Ft. and it was very cool there.
We are staying in Moorcroft Wyo. Tonight and we found that Devils Tower is only 33 miles away so I want to go there tomorrow before heading on.
We had a nice chat with an elderly gentleman while we waited for roadwork.

He told us about the ranchers have built their own dams so they call the shots on there own irrigation.

He pointed out where the Bikerman trail which connected to the Oregon Trail up in Montana.

He said they get 4-7 inches of rain a year.

He and his wife want to come east for a fall leaf tour.
Monday 8/17
We did see the Devils Tower and we also saw at least 9 climbers frozen in place on the side of it.
We carried on to South Dakota and not far over the line we entered into the Black Hills Nat'l Forest.

It was very nice there, very old geologically speaking.
We stopped at Jewel cave and I decided to take the tour.

This is the not so public tour.

We used candles put into old paint cans as lanterns.

WE crawled & squeezed in and it was very tight & we had to duck walk!! My legs got sore, we went through the "Trap Door" down into the "dungeon" It was a dry cave, made of crystals.

There was once water in the cave but they don't know where it went.

The cave has been open to tours for 100 yrs!

There is also a tourist entrance with an elevator and lights and all that but I was happy I chose the rustic tour.
After that we visited Mt. Rushmore.

There is a bookstore there.

Rushmore is OK, and all but it was my least favorite of all the places we visited so far.

After that we stopped in Wasta SD.

The next morning we headed for the Badlands and that was really great.

The colors and formations were awesome.

It was hot and dry.

That night we stayed in Kodaka.

We did our laundry in a dead little town.

We drove to Iowa and we stopped and saw the Corn palace, unusual.

Now we're in a dump called Buffalo, Missouri!
Wed. 8/19
We are in Columbus Mississippi, and 1-½ days away from home.

We ate at Shoneys were once again I'm able to get Sweet Tea YUMMY.

It's a real different feel here in the South, there's a sad separateness', an oppression that's very real.
Thursday8/20
We stopped in Mason, Georgia.

It's a really cute old southern antebellum town.

We ate that the Corner restaurant which used to be a bank, back in 1800's.
Friday 8/21
Back home again its hot and humid here … Trip over.
WHAT A BLAST WE HAD!!
ROAD TRIP